Richard Hunter's Bio
Richard Hunter's latest release is "The Lucky One," the groundbreaking 21st century rock harmonica masterpiece. The 13 songs on this record, including ten originals plus covers of Morphine's "Early to Bed," Amon Tobin's "Orphan Black," and ? (Question Mark) and the Mysterians's "96 Tears", are full on Americana and classic rock-inspired songs with a unique sound driven by lap steel and deep layers of amped-up harmonicas. The record establishes entirely new roles for the harmonica in a rock band, with a big new sound that blends rock with a startling range of electric harmonica tones.
Lyrically, the ten original and three cover songs address big themes like self-expression, sex and money, a world without secrets, a rueful run of bad, bad luck, and the loneliness of pain. Musically, they draw on blues roots (the sleazy New Orleans blues "50 Grand" and harmonica-driven rhythm of "Double Lucky"), rock guitar gods like Jeff Beck (to whom Hunter's jamming cover of Amin Tobin's "Orphan Black" theme is dedicated) and Jack White, the straightforward song structures and casual virtuosity of Americana, and the horn-driven grooves of Morphine.
Richard Hunter wrote the world's best-selling method for jazz and rock harmonica players, Jazz Harp (Oak Publications, NYC), now in continuous print for over 35 years. In the 1980s he was the first-call studio harmonica for Boston-based producers and studios that included Soundtrack's John Kiehl, Birdsongs of the Mesozoic's Erik Lindgren (with whom he recorded two rock singles under his own name on the Arf Arf label), Robert Ellis Orral (who later moved on to greater success in Nashville), and film and TV composer Mason Daring.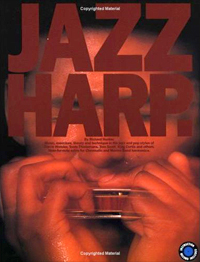 In the 1990s Hunter recorded two highly regarded CDs of compositions and arrangements for solo acoustic harmonica, The Act of Being Free in One Act and The Second Act of Free Being. The critically praised music on those records was cited as an influence by New Age pianist George Winston in his concert programs, and was featured in NPR's "All Songs Considered." Hunter's harmonica resume includes performances for major and independent record releases, feature films, documentaries, TV series, and advertising jingles in addition to his own releases. As of this writing, Hunter is number 28 on harmonica.com's list of "the top 100 harmonica players to ever walk the planet."
Hunter's performing career was cut short in 2002 when his wife was seriously injured by a physician's error. Since then, between recording sessions for a range of clients from Los Angeles to Milan, he has focused on writing music and lyrics while developing a new, unique palette of electric sounds for the harmonica. "I orchestrate with harmonicas, electric and acoustic, the way Jimmy Page said he orchestrated with guitars," Hunter says. "Every song on this record has at least one sound that's never been heard on record before."
"The Lucky One" was produced by Ed Abbiati, leader of the Pavia, Italy-based band Lowlands. The Philadelphia-based band for "The Lucky One" consists of Mike "SloMo" Brenner, who also co-produced, on lap steel, bassist John Cunningham, drummer Mark Schreiber, singers Jess McDowell and Meaghan Kyle of No Good Sister, and engineer Peter Rydberg.
"The Lucky One" is available worldwide as a digital download or CD from CDBaby.com, Amazon, and iTunes. For more information on Richard Hunter's "The Lucky One," contact Turtle Hill Productions (turtlehill@earthlink.net), visit hunterharp.com, tweet to @lightninrick, or search Facebook for @RichardHuntersTheLuckyOne.
the rock harmonica masterpiece
Get it on Amazon

Get it on iTunes